Receive new posting via RSS feed. Click the icon on the left to subscribe.
---
What is Neuromarketing?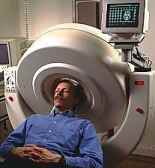 The scientific dream of being able to peer into the human brain is possible today through new brain scanning technologies. Brain wave recording devices have been available for decades but now they can pinpoint more precisely which regions are active as people respond to products or make brand choices or are exposed to advertisements.
Marketing's use of these new devices has been called 'neuromarketing'. Yet it is really just an extension of the use of pupilometers, galvanic skin response, eye tracking, voice stress analysis and earlier brain wave measures – each heralded in its time as a revolutionary breakthrough.
Despite hype by consultants offering these earlier technologies, none of them ever really found widespread, lasting use in marketing (although eye tracking has carved out a small niche). There is a lot of hype about neuromarketing also- particularly in the press where reporting all too often outstrips the scientific substance.
Check out the actual state of neuromarketing through these Max Sutherland columns:
Neuromarketing: What's it all about?
Check out the press reporting of neuromarketing here.
For simple explanations of brain imaging methods, click here.
Useful neuromarketing links :