Receive new posting via RSS feed. >Click the icon on the left to subscribe.
(Or right click the icon to copy and paste the link into your rss reader)
---
Slipstream Marketing
Slipstreaming is all about seizing opportunity to hitch a ride and boost competitive performance with minimal cost. The term comes from motor racing. By getting in close behind the vehicle in front, motor (and cycle) racers face no wind resistance and so they get 'sucked' along, going further and faster with less energy cost, because there is no air-resistance to plow through.
Today's budget constraints perennially dictate the need to be especially smart and creative since any brand that is outgunned and outspent will be out cold.
Traditional marketing uses price, product, promotion and physical distribution (the 4P's) - to make a business fly. Slipstreaming is a way to make it fly further and faster at without additional cost..
A book is in preparation on Slipstream Marketing but a number of columns are available that can be downloaded here:
Slipstream Marketing
Celebrity Slipstreaming: Pop Stars & Pop Expressions
SlipStream Marketing - want free sponsorhips with that?
How to Supercharge Your Slogans.
Advertising Examples:
Applied to advertising, slipstreaming is conventionally called 'topical advertising'. Slipstreaming is much broader than just topical advertising and is applicable not just to advertising. But topical ads illustrate the principle well.
Here I post examples of ads that leverage their effect at very little cost by applying slipstreaming. Reader contributions are very welcome - click here.
---
27th June 2010
Ikea Slipstreams Removal of Australian Prime Minister
Ikea moved quickly wih this ad to take advantage of the removal of Kevin Rudd as Australian Prime Minister by his cabinet colleagues.
---
16th November, 2009
Golf Retailer Slipstreams Tiger Woods in Australian Open
A golf retailer took the opportunity created by the huge buzz of publicity surrounding Tiger Woods in the 2009 Australian Open tournament to place this tiny ad (actual size) in Australian newspapers.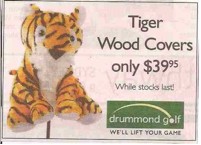 It is not the most brilliant example but if it had not used slipstreaming, the chances of it being noticed would have been miniscule. Shows how slipstreaming can magnify awareness for virtually zero cost.
---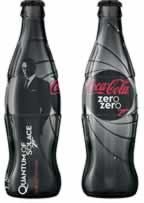 11th September, 2008
Coke Zero To Slipstream the New James Bond Movie
Coca-Cola UK has teamed up with Sony Entertainment to help promote the new James Bond film, "Quantum of Solace," by renaming the Coke Zero brand as Coca-Cola Zero Zero 7.
Specially crafted bottles have been designed with a picture of James Bond and the 007 gun barrel logo. Full story at Ad Age.
---
27 August, 2008
McCain Foods Slipstreams McCain The Presidential Candidate

When your brand name is the same as a candidate for president , can you resist hitching on to it? If you fear alienating committed voters on the other side perhaps, but this has not deterred McCain Foods taking advantage of John McCain's run for the whitehouse. Since McCain doesn't use trans-fatty oils, a sample slogan is "McCain goes to war over oil." Full story at Ad Age
---
16 May 2008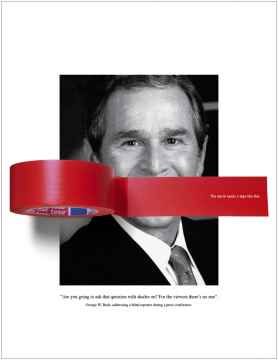 Love Him or Hate Him... Bush Gets Attention
Here's a great Brazilian ad for Tesa adhesive tape. George Bush gets attention and this ad uses the product visually, to silence him. Written on the tape are the words: "The world needs a tape like this."
Under the photo is his quote:
"Are you going to ask that question with shades on? For the viewers there's no sun". — George W. Bush, addressing a blind reporter during a press conference.
An extensive collection of ads that slipstream Bush, is at the Creative Bits blog.
---
Sex Toy Slipstreams iPod Silhouette Ads.
The distinctive silhouette advertising for iPod has become attention getting in its own right. That style has been slipstreamed by iGasm. iGasma is a sex product that plugs into an MP3 music player and to the musical beat delivers good vibrations to 'intimate places'. Apple understandably feels that it 'owns' that silhouette style of ad and has threatened legal action if iGasm does not cease and desist. Full story here.
It remains to be seen if Apple will be successful however. Can ad style be protected as an exclusive property?
---
19 May 2006
'42 Below' Slipstreams Keith Richard's Tree Fall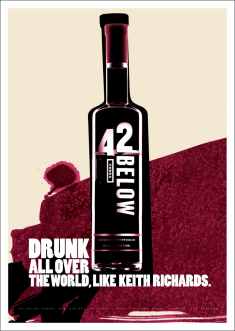 When Rolling Stone, Keith Richards, fell from a coconut tree in Fiji in May, New Zealand vodka brand '42 Below' siezed on this 'reputational' display to leverage the worldwide publicity for the 42 brand with this ad. Full story at Adrants.
Postscript (12th October 2006): Slipstreaming clearly works to build brands. Bacardi has made an offer to buy 42 Below and associated brands for NZ$182 million. Not bad for a brand that was launched from a garage in New Zealand only seven years ago
---
May 2006
Tri State Insurance Slipstreams 'the Gecko'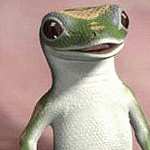 Tri-State Insurance, in its advertising, slipstreamed what looks like the gecko character from the Geico Insurance advertising. Tri State used the line '"Enough with the gecko already! You want cuddly cartoon characters, or better rates?'" In radio ads, the gecko gets squished by a car with a splat sound. Geico has taken legal action saying that it has invested "hundreds of millions of dollars in radio and television advertisements" promoting the gecko trademark and that because of its use of the gecko, the company has "attained one of the highest levels of brand recognition" among consumers for auto insurance. Full story here.
---
Nov. 02, 2005
Vespa Hitches a Ride on High Gas Prices:

What is more on the minds of people today than the price of fuel? Vespa motor scooters slipstream this with a series of three ads, including this one here, that reads "We have one word for crazy gas prices. Ciao." ( See more Vespa ads at Adrants.)
---
October 03, 2005
Great Branding AND Slipstreaming: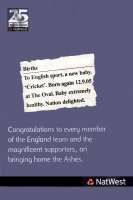 When the English cricket team finally conquered the all-powerful Australians in the fifth test in the U.K. recently (Sept. 2005), the whole of England was delirious. Natwest ran an ad congratulating the team (see it here). That is classic slipstreaming of attention.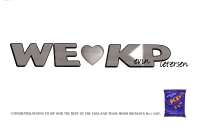 The star player of the match for England was Kevin Pieterson, fondly known by his nickname 'KP'. What an opportunity for KP Nuts! The company wasted no time in running this slipstream ad in UK newspapers. Congratulatory ads often suffer from branding problems. They get attention but who remembers the advertiser? Not so with this one. By congratulating "KP", "and the rest of the English cricket team", rather than the English team per se, it inextricably integrated the brand into the execution - as well as slipstreaming attention.
---
October 03, 2005
Blockbuster Ads Slipstream Opportunity:
Blockbuster ads often get parodied and slipstreamed if they make news and become high profile. Like the ad with Paris Hilton doing a car wash job for Carl's Junior burgers that gave rise to a number of spoofs. More recently the 'Big Ad' for Australian brand, Carlton Draught has been slipstreamed by Jay Jays, (a clothing retailer owned by Australian company 'Just Jeans'). Jay Jays saw the opportunity and released this ad for Jay Jays jeans called 'The Small Ad'. Check it out here. Thanks to Prof. John Roberts (Australian Graduate School of Management) for this one
---
May 21, 2005
Slipstreaming Elections: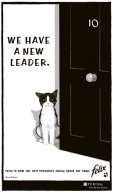 Elections are always high profile events and present great opportunities for slipstreaming the huge attention. Here's a couple of examples:
1. With the headline "We have a new leader" and appearing the day after the recent 2005 U.K. election, this ad announced that Felix is now the UK's favourite, single serve cat food.(from Newpaper Marketing Agency).

2. During the last U.S. presidential election Bush's environmental policies came in for much discussion globally. During that time Cottons natural tampons in Australia ran this ad to highlight the brand's 100% natural positioning. The headline reads "Not every Bush Harms the Planet"
---
February 11, 2005
Slipstreaming 'droppings:

Here's one from The Mirror newspaper (UK) that I had missed. It slipstreamed a news story of a burglar caught 11 years after the crime as a result of DNA testing on his dandruff. Head & Shoulders didn't miss this opportunity to run with this clever ad for their shampoo with the clever sign-off line: "Don't get caught with Dandruff". (More details at Newspaper Marketing Agency).
---
February 01, 2005
Slipstreaming the Ads of Others: Trajectile Dysfunction:

This ad for Cleveland 460 Comp Golf clubs called "Trajectile Dysfunction" that captures attention and creates buzz by slipstreaming all those ads for erectile dysfunction. The audio includes lines like
"If you're like a lot of men, you're game may not be what it used to be."
"Ask your swingdoctor if the new Cleveland 460 Comp is right for you."
"For longer, stronger drives... that go all day."
And the disclaimer at the end: "The Cleveland 460 Comp may not be right for everyone."

A clever slipstream, executed on the ads of others. In the same vein as California Dept of Health who some years ago made their anti-smoking ads stand out by slipstreaming the image of the "Marlboro man".
---
January 14, 2005
Amul Butter - 30 Year Veteran: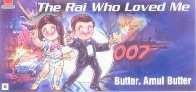 Thanks to reader, "shubham" (who describes him/herself? as "chief dreamer,dreamers ads") for pointing out the Indian example of Amul butter. The brand has been built and maintained consistently for 30 years (that has to be unique) with a slipstream approach hitching its advertising to numerous topical events as they arise. Although many of the ads relate to Indian events and don't translate outside of India, it is worth checking out the Amul website just to appreciate the huge range of Amul topical ads. Apparently Amul has not only kept the same successful approach for 30 years but also stayed with the same slogan "Utterly butterly Amul". You can also read the Amul story.
---
January 06, 2005
Slipstreaming a political event: All aboard!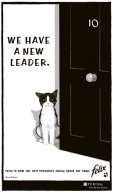 Kia Motors recently slipstreamed the visit to the UK by the President of South Korea with this ad promoting Kia as the UK's fastest growing car manufacturer. The Newspaper Marketing Agency reveals Hyundai, another Korean manufacturer, ran something similar - an ad with the headline that reads:. "To a great relationship" . And in anoather product category, Korean manufacters 'LG' and 'Samsung' each ran tie-in ads to promote their mobile phone brands.
---
December 21, 2004
Lux Does a Double Slipstream: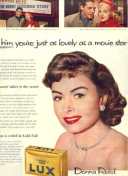 As reported by Ad Age, Unilever (through agency JWT) re-launched Lux soap in Europe (Spring 2004) with a double slipstream. Lux
a) slipstreamed residual memories of past Lux advertising - specifically the long running 'Lux brings out the star in you' campaign that featured movie stars like Sophia Loren, Marilyn Monroe and Donna Reed.
and
b) coincided this with the final episodes of the hugely popular 'Sex and the City' TV series.
The ad showed a woman showering with Lux who acts out her fantasy at a club by hopping into a limo and emerging as Sarah Jessica Parker.

A nice illustration of how you can capitalize on past ad equity while simutaneously slipstreaming some current event.
---
December 13, 2004
FedEx Capitalizes on 'Jeopardy' Quizz Program Shock:

As reported in the New York Observer, December, 2004 finally saw the end of all-time 'Jeopardy' quizz champion, Ken Jennings when he gave FedEx as an incorrect answer. Making opportunity out of the huge attendant publicity that this created, ad agency for Fedex, BBDO, rapidly put together a full page ad for USA Today (Dec 9) that pictured Jennings and the headline: "There's only one time FedEx has ever been the wrong answer". The ad went on... "Congratulations Ken Jennings on your amazing Jeopardy! winning streak. And thanks for mentioning our name. Even if it was the one time you shouldn't have." A great illustration of slipstreaming negative publicity to turn it into a positive.